Online reputation audits for individuals are increasingly in demand. Today, and certainly in the future, your personal reputation and your professional reputation are more subject to scrutiny than ever before.
You only need to look at news headlines surrounding the likes of Steve Easterbrook, Jeff Fairburn, Phillip Green, and Prince Andrew, to realize the risks, consequences, and costs associated with a personal reputation crisis.
Personal reputation – the age of online scrutiny
What people see when they search for you online, and what other people are saying about you in the press, social media, online forums, profiles, and more have a huge influence on how people perceive you. We're talking about everyone from your professional circle and employers to your family, friends and the communities you live and work in.
Try it yourself, Google your name and see what comes up in the search results. Focus particularly on that first page of results, which is the online equivalent of the front page of a national newspaper – aka your 'headlines'.
Are you visible?
Do you like what you see?
Does it reflect you in a good light, would you trust you?
Would you hire you, or do business with you?
Would you want to be associated with you?
Does it really reflect who you are now?
Or, is the past interfering with your future?
An online reputation audit discovers, and assesses, all of the above and more.
What is an online reputation audit for individuals?
An online reputation audit is one of the most valuable things you can do for your professional and personal visibility, credibility and reputation.
You can conduct a personal online reputation audit yourself. For this 'DIY' method, identity:
How you want to be viewed by people online.
Who your key audiences are.
What you want your target audiences to associate with you – personally and professionally.
How and where you want to engage with and influence people online.
Then, 'brainstorm' the search terms you think you need to monitor.
It's worth including:
Your name.
Your professional interests and sector.
The next step is to enter each search term into the search engines and record any 'mentions'. Sift out anything irrelevant. As you're recording the results, mark which are positive, negative or neutral. Finally, review your results so that you can get a clear picture of the overall impression of your personal reputation online. From there, focus on building on the positives and tackling any negatives.
DIY online reputation audit vs professional online reputation audit personal
You can conduct a DIY online reputation audit, but you should really think about hiring a reputation management company with a proven track record in auditing and improving personal reputations. A DIY online reputation audit is time-consuming and probably won't uncover everything you need to know. But, a rigorous professional audit of your personal online reputation will reveal everything you need. AND your reputation experts will evaluate, interpret it, and tell you what to do about it.
Online reputation management companies use specialist tools and tactics to conduct personal online reputation audits. And, they know exactly what it takes to build and protect your personal reputation online.
A professional online reputation audit should reveal:
What people are saying about you online, where and when.
Your search engine results – visibility is key.
An assessment of your online sites, profiles, social media accounts, any content, PR, images, videos and more.
An assessment of ranking content/sites/forums and more.
The factors that are driving people's personal and professional perceptions about you.
How positives and negatives are affecting your personal online reputation.
Actions for dealing with negative content online.
Actions for promoting existing positive content online.
A strategy/action plan with recommendations for short and long-term success.
A professional personal online reputation audit is worth the investment. Data-rich insight enables you to:
Understand what your personal and professional online reputation is.
Examine how you measure up against your peers.
Identify what to do to improve your search results.
An online reputation audit should also evaluate how effective your own online activity is and the key influencers/peers.
What does an Igniyte audit of your personal reputation cover?
At Igniyte, we work with individuals from around the world to audit their online reputations. People in business – from CEOs, entrepreneurs and senior directors in large corporates and small businesses – to celebrities, sportsmen and sportswomen and government officials. And professionals and members of the public caught up in a media crisis.
We use their audit findings and recommendations to improve their search results and reputations. An Igniyte Personal Reputation Audit uses specialist tools to dive into your online reputation and recommends improvements to influence all your audiences.
If your online reputation audit uncovers good results that's great. You can maintain and build on a positive reputation. But, if your online reputation audit uncovers anything negative, you'll want to address it quickly. A good online reputation audit will highlight HOW.
Negative results are a huge worry for individuals. But highly visible positive search results on page 1, really influence perception, reputation, trust, and opportunities, which is why it pays to look after your online reputation.
Online reputation facts and stats – for individuals
Executives say that, on average, 49% of the reputation of their company is attributable to their CEO's reputation.
Social recruiting is fast-growing and virtually all companies are employing social recruiting in one form or another, checking profiles and recruiting via them.
93% of recruiters say LinkedIn is the most popular in-house digital recruitment platform.
What's also worth knowing is that 70% of employers are actively using social media to screen potential candidates and 57% of employers are less likely to interview you if they can't find you.
If employers see something they don't like, it heavily influences their decision-making – 54% of employers are deciding not to hire you based on your social media profiles.
69% of job seekers are likely to reject a job offer from a company with a bad reputation.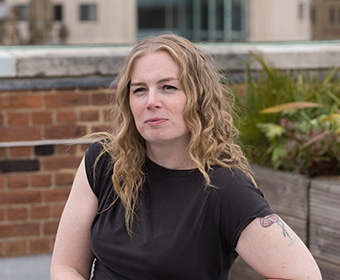 An experienced digital PR, marketing and social media marketing strategist, Claire leads PR strategy and delivery at Igniyte across multiple countries and sectors.
With 16 years' experience in marketing, communications and PR, she seamlessly directs all elements of B2B and B2C online PR to gain high-ranking positive coverage for our clients in regional, national, international and specialist online media – and she helps ensure that any risks are managed and mitigated.