Online reputation audits for businesses are a big thing right now. The Internet is a highly competitive place when you're doing business. What people see when they search for your business online. And what other people are saying about you in the press, social media, in online forums, profiles, videos, and images, really influence how people perceive your company.
What do people find when they Google your business? Ideally, they should see search engine results that show your websites, blogs, content, social sites, professional profiles and news articles. Each one should show your business in a positive light.
But if they're not seeing all of this, and you have poor visibility online or negative press, you'll be missing out on prospective customers. Evidence shows that businesses risk losing 22% of business when potential customers find one negative article in search results. This rises to a sobering loss of 70% of prospective customers with four or more negatives.
And negatives cost your business more than this. Damaging content costs 1 in 20 UK companies more than £500,000, 5% lose £100,000-£500,000 and 1 in 7 lose up to £50,000.
For people to perceive your business in the best light, and get ahead of competitors, you need to know exactly what people can see online. To do this effectively means you doing more than a quick Google search of your business. You need to conduct an online reputation audit of your business.
What is an online reputation audit for businesses?
An online reputation audit is one of the most valuable things you can do for your business.
You can conduct an online reputation audit of your business yourself. This 'DIY' method typically starts with identifying:
How you want your business to be viewed by people online.
Who your key audiences are.
What you want your target audiences to associate with your business.
What actions you want people to take online.
Whereabouts online you want your business to be seen, heard and engaged with.
Then, brainstorm all the search terms you think you need to monitor. It's a good idea to think wider than just your company or brand name.
It's worth including:
Company name/brand name.
Product and service names.
Sub-brands.
Key executives and spokespeople.
Company name and location name combinations.
The next step is to enter each search term into the search engines and record any 'mentions'. Make sure that you sift out anything irrelevant. As you're recording the results, mark which are positive, negative or neutral.
Finally, review your results so that you get a clear picture of the overall impression of your business online. From there, focus on building on the positives and tackling any negatives.
DIY online reputation audit vs professional online reputation audit business
If you're not sure about conducting a DIY online reputation audit, think about hiring a reputation management company with experience in your sector. A DIY online reputation audit can be time-consuming and is unlikely to unearth everything you need to know. But, a rigorous professional online reputation audit of your business will reveal everything you need to know. AND your reputation experts will evaluate and interpret it, and tell you what to do about it.
Online reputation management companies use specialist tools, tactics and best practices to conduct online reputation audits. Plus, they are experienced in knowing exactly what it takes to build and protect your business reputation online.
A professional online reputation audit of your business should reveal:
What people are saying about your business online, where and when.
Your search engine results and rankings – visibility matters.
Competitor search engine results and rankings.
An assessment of your online sites, profiles, social media accounts, content, PR, images, videos and more.
An assessment of ranking content/sites/forums and more.
The factors that are driving the perception of your business.
How positives and negatives about your business, brand, products, services and even your team online are affecting your online reputation.
Actions for dealing with negative content online.
Actions for existing positive content online.
A strategy/action plan with recommendations for short and long-term success.
A professional online reputation audit is worth the investment. Data-rich insight shows you where you are 'right now' and how your Google search results reflect on your business. It enables you to:
Understand what your company's online reputation is.
Examine how you measure u against your key competitors.
Identify what to do to improve your search results.
An online reputation audit by a professional online reputation management company should also evaluate how effective your content, PR and social media activity is. And the key influencers in your market.
What does an Igniyte audit of your business cover?
At Igniyte, we work with clients from around the world to audit their online reputations. Businesses in sectors from property and financial services to energy and automotive use our audit findings and recommendations to improve their search results and reputations. And many of them ask us to do this for them.
An Igniyte Online Reputation Audit of your business uses specialist tools to dig deep into your online reputation. It includes recommendations for how to improve across all channels and with all audiences.
If your online reputation audit uncovers good results that's great – you can maintain and build on a positive reputation.
But, if your online reputation audit uncovers anything negative, you'll want to address it as soon as possible. A good online reputation audit should highlight HOW you can do this. Or how they can do this for you.
Learn how we use specialist online reputation tools including the Igniyte Online Reputation Index, to help build a start-up brand online. And enable a European telecommunications company to understand and improve its online reputation.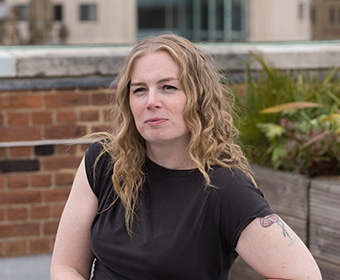 An experienced digital PR, marketing and social media marketing strategist, Claire leads PR strategy and delivery at Igniyte across multiple countries and sectors.
With 16 years' experience in marketing, communications and PR, she seamlessly directs all elements of B2B and B2C online PR to gain high-ranking positive coverage for our clients in regional, national, international and specialist online media – and she helps ensure that any risks are managed and mitigated.