A good solid social media strategy shouldn't be an afterthought when it comes to your online reputation. In fact it can contribute a lot to your online reputation. And to get ahead in business you should be incorporating it into your business growth plans… from day one.
Whether you are managing your personal or business brand, social media plays a key part in how others perceive you and your values. If you're just starting out, then setting up your social media channels can seem like a daunting prospect, as there are so many options to choose from. But this is where spending a bit of time on research upfront plays a big part.
Which social media accounts should I include in my social media strategy?
You're probably already using social media in some area of your life to communicate with people. Maybe you use Facebook for personal and LinkedIn for business or Twitter or more. Social media accounts are used to create and share content with your audience and customers and to interact and engage with people. The first thing you should do as part of a good business social media strategy is to take control of your social media accounts. Even if you're doing so just to stop anyone else from taking control of these accounts – because they have the same name as you, for example.
Each social media channel (such as Twitter, Facebook, LinkedIn and Instagram), offers you different ways to interact with your customers, clients, investors or other like-minded individuals.
And engagement is key in choosing which channel to use. Find out what your target audience uses, likes and interacts with the most and prioritize that one.
There are many options available, but the main ones that work for businesses are Facebook, Twitter, LinkedIn and Instagram. And you can use them for different purposes.
30% of brand leaders say they have too many social channels to manage. So, don't spread yourself too thin, but focus on growing one channel and increasing your engagement on that one. Like and share posts from things you find interesting and relevant for your audience (or who you want your audience to be).
Changes in Facebook's and Instagram's algorithms mean that it's more difficult for business pages to be seen without paying for advertising. It is always worth looking at these as an option to target your audiences. You can target specific demographics and grow your audience that way. You can also set daily or monthly budgets, so you'll never overspend.
What is a good social media strategy?
A good social media strategy defines how you or your organization will use social media to support your goals and the tools you should use to achieve these.
At its most simple level, a social media strategy defines its statement of intent, outlining your company's goals and what you want to achieve in the long term. It should do this in the context of the overall business plan. It's really important to integrate it rather than separate it. Your strategy isn't an action plan, but an overall strategy that will influence your business and communications plans.
There are several key steps you need to do to identify your goals, engage with your audiences and ensure your results are optimized.
Set actionable goals – what do you want from your social media strategy? You should set goals that are achievable and break them into smaller manageable chunks.
Research your audience – don't make assumptions but base it on data. There are plenty of social media analytics tools available. More people use Facebook that other social media channels (68% of adults use Facebook, 24% use Twitter and 25% use LinkedIn), but that doesn't mean that this is right for you. Use each platform differently based on the data from each.
Establish your important metrics – your social media strategy should be driven by insights and data. It's not all about the 'like', think about engagement levels, reach of posts and hashtag performance.
Keep an eye on your competition – before you start implementing your social media strategy, look at what the competition is doing and make your posts, interactions and responses better.
Create engaging content – once you've done all your research you should have a pretty good idea of what kind of content you should be posting. Don't be overly promotional as 46% of users say they would unfollow a brand if it promoted itself too much. Get the right balance. Video might have killed the radio star, but the need for brands to create video content is greater than ever before. It gives you the opportunity to let people see the real you. 81% of people feature video on their brands website, and 1,200% more shares are generated by social videos than text and images combined. Think about sharing user-generated content, or create a theme around your content
Being timeless is key – not only do customers expect brands to respond quickly to them but they want meaningful conversations too. Social media helps your online reputation by being present, you will gain respect because of your engagement and 45% of consumers will post about a positive integration if a brand responds well to a complaint. Use insights to determine the best time to post to increase your engagement.
Assess, assess, assess – what is working, what isn't? Use this information to improve and implement changes. Adapt your social media strategy as you go along, without looking at your results how can you see what is working and what isn't
Why is social media important to your online reputation strategy?
When people search for your business online they look at your social media accounts and they form an impression of your company based on what they see. This is part of your online reputation. Along with your websites, reviews, blogs, anything online about you.
Your online reputation is about being professional and trustworthy. But what about your employees, or anyone that speaks for your business? Build a solid social media strategy and policy to guide how companies and employees interact with the brand and public online.
Ensure that your employees understand that what they say on social media is public – and can be seen by your customers, stakeholders, future employees etc. Get all your employees to start with labeling personal accounts as personal or ask them to use 'views are my own' on all social media channels they use, so it offers some protection for your brand.
A survey found 58% of consumers tend to share their positive brand experiences on social media platform
72% of consumers will trusta brand more-so after reading a positive customer review whether it's on social media or a review site.
Social media is used by clients, customers, investors, stakeholders and your employees to research you. So make sure that your social media accounts up to date, the content and comments are relevant and engaging. Use your research to influence your decisions and use data to make the best choices. You'll also find your social media accounts crawl up your search results rankings the more they are viewed and used too.
The management of your online reputation should go hand in hand with your social media strategy, there are many other factors that can influence how you're seen online, such as online reviews and press coverage.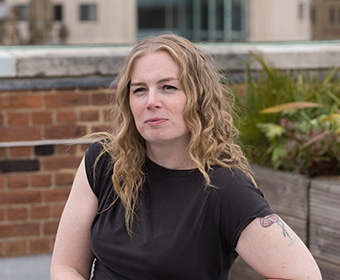 An experienced digital PR, marketing and social media marketing strategist, Claire leads PR strategy and delivery at Igniyte across multiple countries and sectors.
With 16 years' experience in marketing, communications and PR, she seamlessly directs all elements of B2B and B2C online PR to gain high-ranking positive coverage for our clients in regional, national, international and specialist online media – and she helps ensure that any risks are managed and mitigated.